RRoads - About Us - Left Menu
RRoads - About Us - Our Chairman
Home - About Us - Our Chairman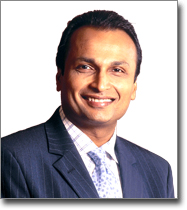 PROFILE
Anil Dhirubhai Ambani, Chairman - Reliance Group
Personal :
Anil Dhirubhai Ambani, born on 4th June, 1959, in Mumbai.
He is the younger son of the visionary entrepreneur Shri Dhirubhai Ambani and lives with his mother Kokilaben Dhirubhai Ambani in Mumbai.
Graduated (B.Sc. in Science) from K.C. College, Mumbai University and MBA at Wharton, University of Pennsylvania.
He is married to former actress - Tina Munim and has two sons - Jai Anmol (25 Years) and Jai Anshul (21 Years)
He has an elder brother Mr. Mukesh Ambani and two younger sisters Mrs. Dipti Salgaocar and Mrs. Nina Kothari.
Corporate :
Anil Dhirubhai Ambani is one of India's leading business leaders and founder of the Reliance Group; whose constituent business enterprises are engaged in pivotal roles in the ongoing economic transformation of India.
He is the Chairman of the Reliance Group; including, Reliance Communications, Reliance Capital, Reliance Infrastructure, Reliance Power, Reliance Defence and Engineering Limited, Reliance Defence Limited and Reliance Defence Technologies Private Limited.
Anil or ADA, as he is often referred to by his colleagues, founded the Reliance Group in 2006 and in less than 10 years, the Reliance Group has built a leadership position in major growth sectors of the Indian economy, including telecommunications, generation, transmission and distribution of renewable and non-renewable sources of power, national road highways, metro rail systems, cement, financial services, education, healthcare, media and entertainment.
Key Indicators of Reliance Group :
Reliance Group is amongst India's top business houses and has one of the world's largest Shareholder/Investor base of nearly 8 million shareholders and investors. Reliance Group has assets of Rs. 3,16,000 Crore (US$ 47 billion); annual Revenues in excess of Rs. 62,400 Crore (US$ 9.3 billion); Net Worth of over Rs.1,02,000 Crore (US$15.3 billion); and nearly 1,00,000 employees.
Business Partnerships :
+
Recognitions and Honours :
+