RRoads - About Us - Left Menu
RRoads - About Us - Reliance Group Profile
Home - About Us - Reliance Group Profile
The Reliance Group is among India's top three private sector business houses on all major financial parameters, with a market capitalisation of Rs.325,000 crores (US$ 81 billion), net assets in excess of Rs.115,000 crores (US$ 29 billion), and net worth to the tune of Rs.55,000 crores (US$ 14 billion)
Across different companies, the group has a customer base of over 100 million, the largest in India, and a shareholder base of over 12 million, among the largest in the world.
Through its products and services, the Reliance Group touches the life of 1 in 10 Indians every single day. It has a business presence that extends to over 20000 towns and 4.5 lakhs villages in India, and 5 continents across the world.
The interests of the Group range from communications (Reliance Communications) and financial services (Reliance Capital Ltd), to generation (Reliance Power), transmission and distribution of power, infrastructure (Reliance Infrastructure) and entertainment (Reliance Big Entertainment).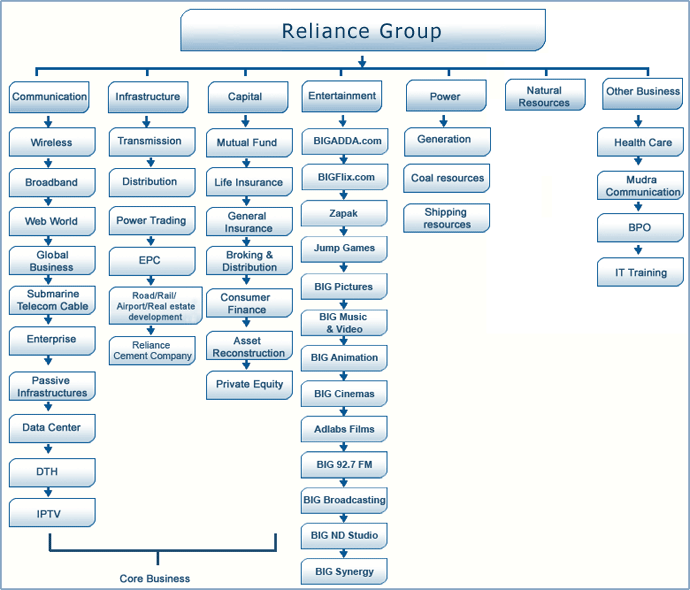 Reliance Companies:
Reliance Capital
Reliance Capital is one of India's leading and fastest growing private sector financial services companies, and ranks among the top 3 private sector financial services and banking companies, in terms of net worth.
The company has interests in asset management and mutual funds, life and general insurance, private equity and proprietary investments, stock broking and other activities in financial services.
For more information click here: www.reliancecapital.co.in, www.reliancemutual.com, www.reliancenipponlife.com, www.reliancegeneral.co.in
Reliance Communications Limited
The flagship company of the Reliance Group, Reliance Communications Limited, is the realisation of our founder's dream of bringing about a digital revolution that will provide every Indian with affordable means of communication and a ready access to information.
The company began operations in 1999 and has over 50 million subscribers today. It offers a complete range of integrated telecom services. These include mobile and fixed line telephony, broadband, national and international long distance services, data services and a wide range of value added services and applications aimed at enhancing the productivity of enterprises and individuals.
For more information click here: www.rcom.co.in
Reliance Infrastructure Limited
Reliance Infrastructure Ltd (RInfra) is not only India's largest private sector enterprise in power utility but also the largest private sector player in many other infrastructure sectors of India. In the power sector RInfra is involved in generation, transmission, distribution and trading of electricity and constructing power plants as EPC partners. In the infrastructure space the company is focused on roads, Urban infrastructure which includes MRTS, Sealink and Airports, Specialty Real Estate projects.
For more information click here: www.rinfra.com
Reliance Health
In a country where healthcare is fast becoming a booming industry, Reliance Health is a focused healthcare services company enabling the provision of solution to Indians, at affordable prices. The company aims at providing integrated health services that will compete with the best in the world.It also plans to venture into diversified fields like Insurance Administration, Health care Delivery and Integrated Health, Health Informatics and Information Management and Consumer Health.
Reliance Health aims at revolutionising healthcare in India by enabling a healthcare environment that is both affordable and accessable through partnerships with government and private businesses.
Reliance Big Entertainment
India is standing on the threshold of an experience and entertainment economy. It is at the cross roads of an exciting phase that will shape its cultural and social framework forever. Reliance Big Entertainment has evolved out of the group's vision of meeting young India's aspirations and assuming a leadership position in communications, media and entertainment. Reliance Big Entertainment is geared to create a significant presence in businesses across various vectors of content, internet, broadcast and retail services and platforms for distribution. The company strives to create converged services and platforms for masses to access innovative, cutting-edge content. Key content initiatives include production and strategic collaboration in areas such as gaming, movies, animation, music, broadcast, DTH and user-generated content, amongst others.
For more information click here: http://www.rbe.co.in